25 years of BAGS
The results and photos from the 25th Anniversary Event at Walton Heath are on the website. Click on Walton Heath in the right hand menu.
Map for 2018
About BAGS - Bookham Amateur Golf Society
BAGS was formed in 1993 and has been going from strength to strength ever since. We passed our 200th day event in October 2015. Membership is capped at around 60 members and we have a healthy waiting list of people wishing to join.
Read more about BAGS...
BAGS Fund Raising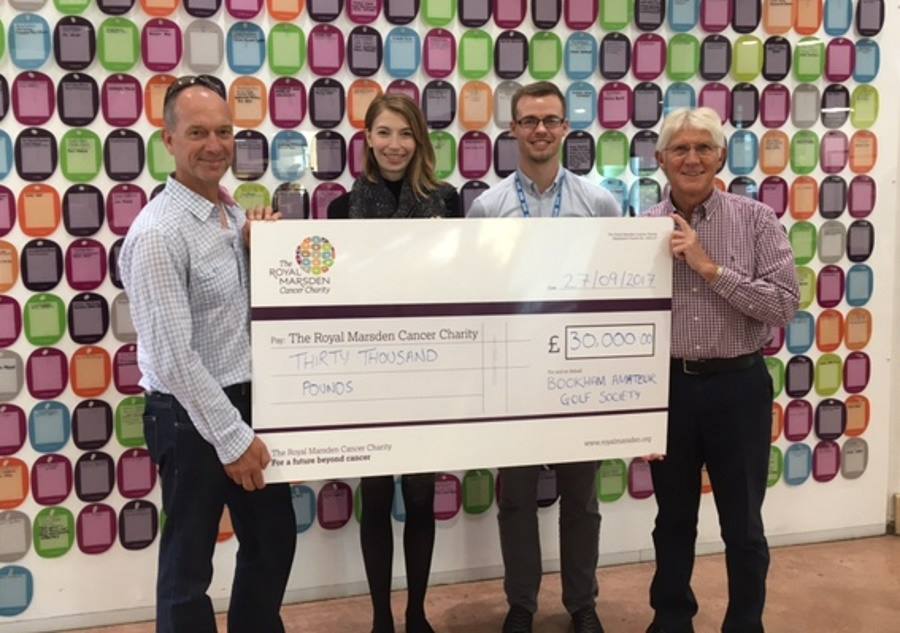 Aaron, from The Royal Marsden Cancer Charity, said: "We are so grateful to Bookham Amateur Golf Society for raising an incredible £30,000 for us, which will help support our Robotic Surgery Fellowship programme. This new programme is the first of its kind in the country, training the next generation of surgeons to use our state-of-the-art surgical robots."
About The Royal Marsden Cancer Charity
The Royal Marsden Cancer Charity raises money solely to support The Royal Marsden, a world-leading cancer centre. They ensure their nurses, doctors and research teams can provide the very best care and develop life-saving treatments, which are used across the UK and around the world. From funding state-of-the-art equipment and ground-breaking research, to creating the very best patient environments, they will never stop looking for ways to improve the lives of people affected by cancer.
BAGS and The Royal Marsden Cancer Charity
Charity fund raising has been a core element of BAGS in the past twenty years. We are very proud to have supported the Cancer Charity at The Royal Marsden Hospital and our total contribution now exceeds £380,000.
Read more about BAGS fund raising...
For photos and details of our main charity event in June 2017 which raised money for The Royal Marsden Hospital please Please click here.