Hindhead - July 2022
The results from the day at Hindhead are available on the website. Please click on Hindhead in the right hand menu.
About BAGS - Bookham Amateur Golf Society
BAGS was formed in 1993 and has been going from strength to strength ever since. We passed our 200th day event in October 2015. Membership is capped at around 60 members and we have a healthy waiting list of people wishing to join.
Read more about BAGS...
26 Years of BAGS Fund Raising - now over £480,000 raised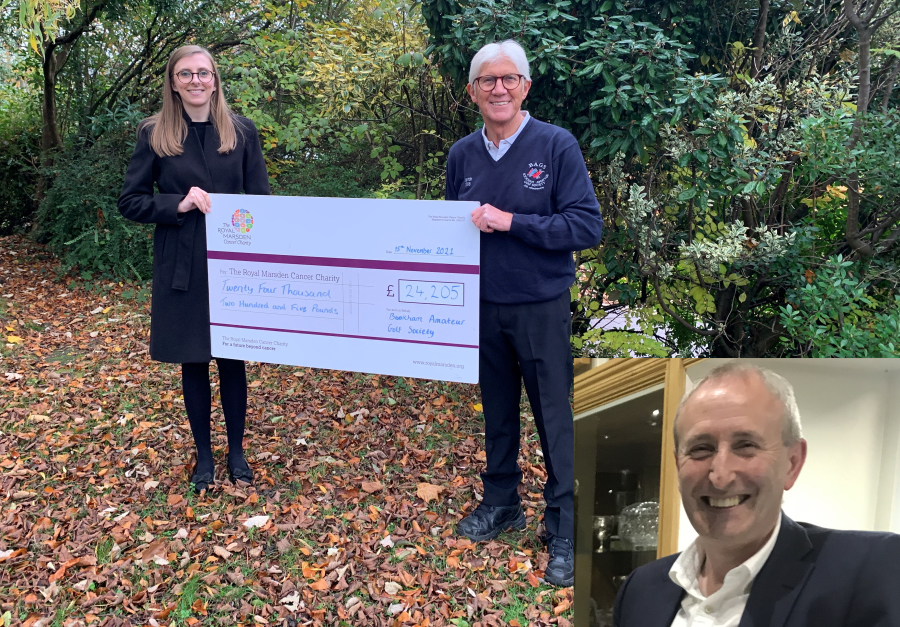 With the ongoing Covid situation, we decided to delay our annual Charity Day until the end of September in 2021, and this proved to be a good decision.
We used all the resources available to us, including many 4 Ball vouchers kindly donated by golf clubs, and we were able to raise the tremendous amount of £24,205, taking our total over the last 26 years to in excess of £480,000.
Lilly Pye (Community Fundraising Manager) at The Royal Marsden Cancer Charity said:
"Your kind donation will support the funding of a Cardiac Output Monitor (LiDCO). This provides clinicians a second-by-second analysis of the flow of blood around the body by obtaining measurements from the patient's pulse rate and cannulas inserted into arteries. This enables clinicians to tailor treatment to a patient's symptoms and provide them with exactly the right amount of medication.
Thanks to your support we are also able to fund a Portacount Face Mask Fit Test System to more accurately fit test staff who are required to wear respiratory protection. This piece of equipment will allow staff to get effectively fit tested, maintaining safety, and enable us to comply with Health and Safety requirements."
About The Royal Marsden Cancer Charity
The Royal Marsden Cancer Charity raises money solely to support The Royal Marsden, a world-leading cancer centre. They ensure their nurses, doctors and research teams can provide the very best care and develop life-saving treatments, which are used across the UK and around the world. From funding state-of-the-art equipment and ground-breaking research, to creating the very best patient environments, they will never stop looking for ways to improve the lives of people affected by cancer.
BAGS and The Royal Marsden Cancer Charity
Charity fund raising has been a core element of BAGS in the past twenty five years. We are very proud to have supported the Cancer Charity at The Royal Marsden Hospital and our total contribution now exceeds £480,000.
Read more about BAGS fund raising...
For photos and details of our main charity event in June 2019 which raised money for The Royal Marsden Hospital please Please click here.